Weber Orthodontics offers an innovative add-on option for orthodontic treatments, called AcceleDent®. Let's take a look at how this product works, and then delve into whether or not its claims are substantiated by actual users.
How does AcceleDent® Work?
You start orthodontic treatment because your teeth need to move. They may need to move up, down, left, right, forward, backward, or even rotate! When your teeth move, it's because of something called bone remodeling. Force is applied to the teeth, which mobilizes osteoblast and osteoclast bone cells in the teeth's roots. This mobilization = teeth movement.
AcceleDent® utilizes a bite tray that delivers micropulses to your teeth and jaw bone, for 20 minutes a day. The vibrations put the activity of those bone cells into high gear, speeding the rate at which teeth can move.

Makes sense, right? The cellular activity is what makes the teeth move, so if you increase the activity, you increase the speediness of the movement. Which means less time in braces or Invisalign® clear aligners, and who isn't thrilled about that concept?
We have found that adult orthodontic patients are especially excited about it, as most busy professionals aren't exactly excited to get into clear aligners or braces in the first place.
AccleDent® Claims — Bogus or Bonafide?
This product claims to reduce overall treatment time for braces or clear aligners by up to 50%, while also reducing treatment pain and discomfort by up to 71%. But what do actual users say?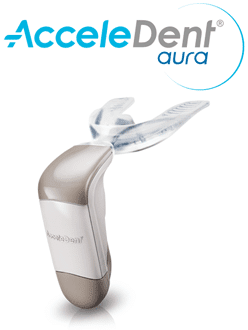 According to a RealSelf poll, most people (89%) who responded said it works! For these users, it's worth the cost because it truly did reduce their treatment time and lessen discomfort.
According to one respondent, dlarosa9321, "I'm 34, just recently finished my Invisalign. The original timeline was approximately 14 months, which I wasn't very happy about. I was changing my trays every 10 days for about 2 months when my Ortho introduced me to AcceleDent and explained that by wearing the mouthpiece for 20 minutes a day I could cut my remaining time (12 months) in half. Since I really wasn't loving wearing the trays, cutting the time in half for a price of $800 sounded great.
"It took me a couple of days to get used to using the mouthpiece, but it very quickly became a routine part of my daily commute to work. I was then flying through trays, changing every 5 days instead of every 10, and even noticed that the new trays fit better and I didn't have any of the minor pain and headaches that I'd usually get on the first day of a new tray. Side bonus – when I changed the trays every 10 days, they start to get somewhat yellow/disgusting towards the end, no matter how much you clean them…that was no longer a problem changing every 5.
"I'm now done with Invisalign instead of having another 6 months to go, and I couldn't be happier. Would have gladly paid twice the price for AcceleDent."
Results do vary, but nearly everyone who offered their feedback had some level of success. Read more AcceleDent® reviews on RealSelf here.
So, What Does AcceleDent® Cost?
Dr. Weber offers AcceleDent® to all patients for a one-time investment of $599. This is an elective treatment option, so it will not be covered by insurance. However, if the price is within your budget, from all the information we have seen based on real results and user testimonies, AcceleDent® is worth every penny to cut treatment time by up to half, and make moving those teeth much less painful.