Types Of Braces
The Self-Ligating Bracket Difference
At Weber Orthodontics, we understand how difficult it can be to choose the right orthodontic treatment for you. That's why we offer a revolutionary technology that puts you in control of your smile: self-ligating brackets. Self-ligating brackets in Omaha, NE are an innovative and comfortable way to achieve the perfect smile without the need for frequent adjustment appointments. They require fewer office visits to see Dr. Weber and less time spent in the chair, allowing you to spend more time doing what matters most—living your life smiling!
Pitts 21™ Self-Ligating Braces
Pitts 21 marks the latest advancement in self-ligating braces technology. It uses smaller metal or clear brackets like the Damon Smile system, but where it differs is that the brackets are placed closer to the gum line. The result is a more low-profile treatment, a better overall smile aesthetic, and a broader smile that follows the natural curvature of your lower lip. Plus, Pitts 21™ is the first and only self-ligating braces system that allows for 3D control earlier and throughout treatment!
Damon Smile Self-Ligating Braces
Self-ligating braces are similar to traditional metal braces in that they both can be made from the same materials—like traditional metal and clear ceramic—and use brackets and wires to move your teeth into proper alignment. However, the Damon Smile System uses brackets that are one-third the size of traditional braces, and the archwires are held in place by tiny clips instead of elastics, which places less pressure on your teeth. Since there are no elastics to replace, that means fewer adjustments and appointments.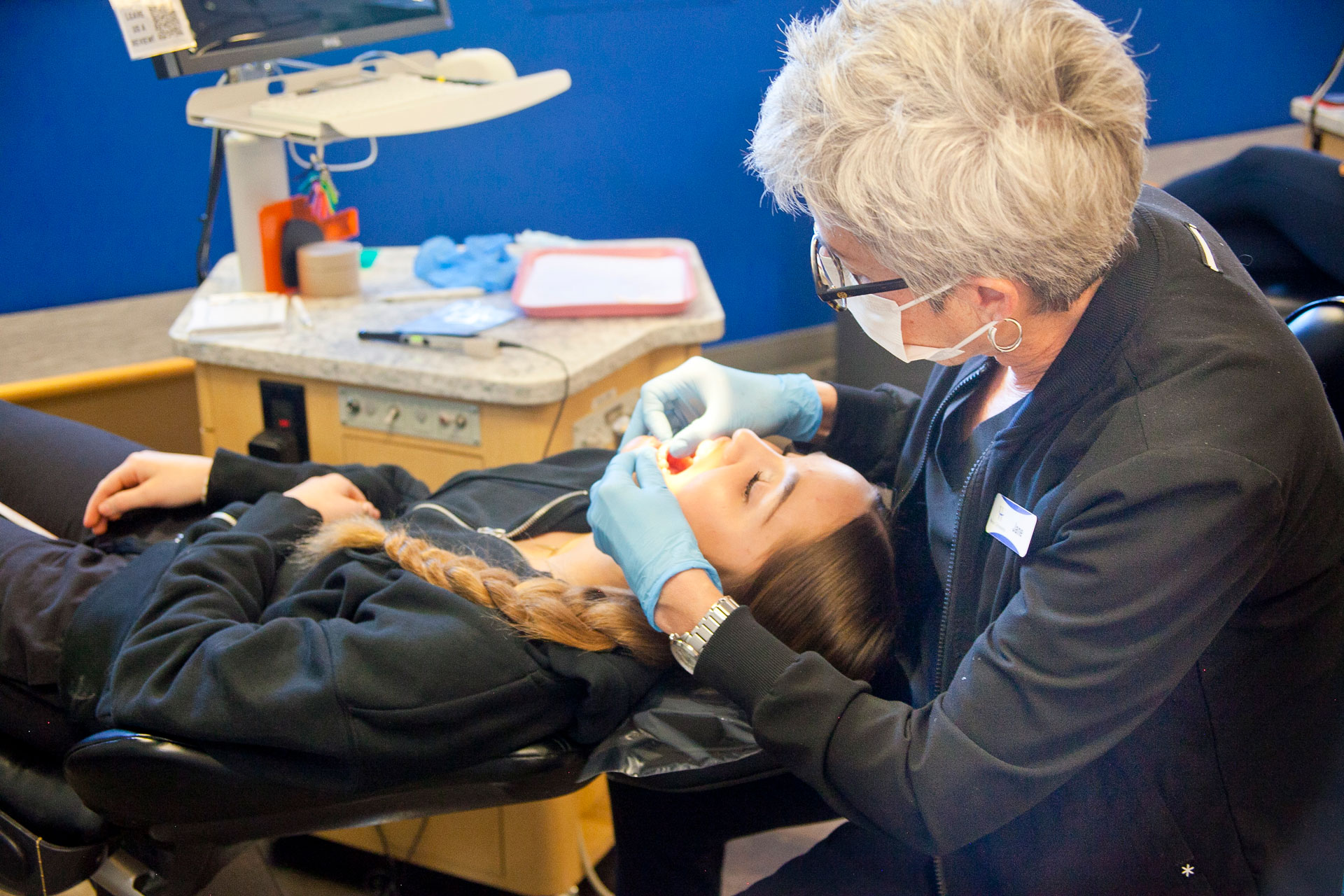 Types Of Braces To Choose From
When deciding which type of braces to choose for your orthodontic treatment, one of the most important factors is finding an option that fits your lifestyle, budget, and orthodontic goals. Here at Weber Orthodontics, we offer a variety of styles to adequately suit any need and preference.
Traditional Metal Braces
Metal braces are the most commonly used type of orthodontic treatment and are what most people picture when they think of braces. They are made of high-grade stainless steel and are designed to straighten your teeth using a series of metal brackets and archwires. Dr. Weber can even help you customize the look of these braces by adding colored elastics (tiny rubber bands), which come in a rainbow of colors and can be changed as often as each visit!
Clear Ceramic Braces
Made of tooth-colored material, ceramic braces are less visible than traditional metal braces. That's why our ceramic braces are used mainly for older teenagers and adult patients who may have more cosmetic concerns. And while they are visually less prominent, they do require more attention to oral hygiene in order to keep them clean. For these reasons, ceramic braces are typically only used on the upper teeth.
Gold Braces
Gold braces are an eye-catching alternative to our traditional metal and clear ceramic braces. Made from high-grade materials, these braces provide a unique and stylish look that stands out from the crowd. These braces are an excellent option for those who want to make a statement with their smile and can be used on both the upper and lower teeth. Plus, they're just as effective at correcting misalignment as our other braces in Omaha, NE.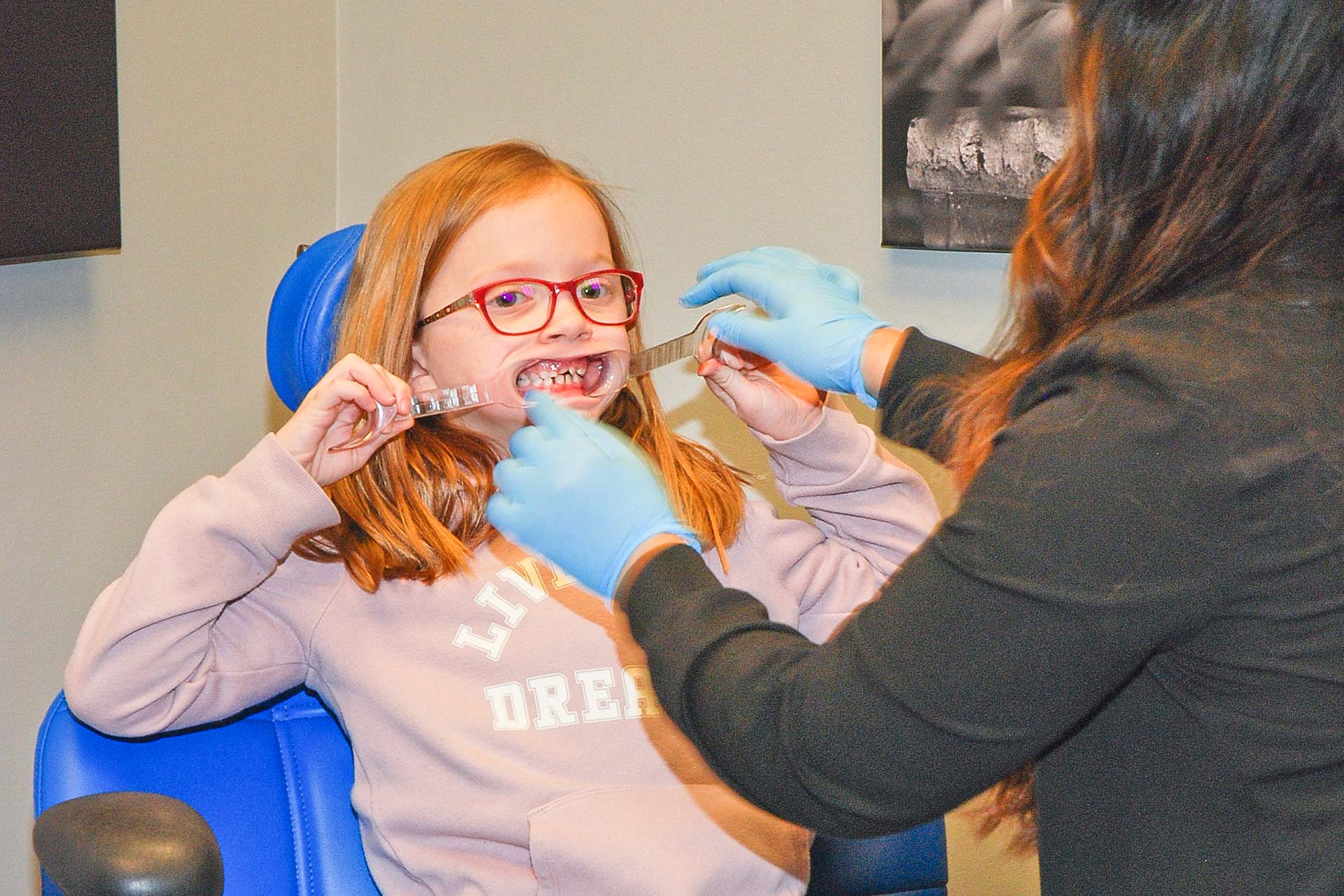 Braces for Kids
The Right Time For Kids To See An Orthodontist
As per the American Association of Orthodontists, it is generally recommended that a child should have their first visit to an orthodontist at age seven. At this age, most children have a mix of baby teeth and permanent teeth, allowing our team here at Weber Orthodontics to evaluate potential problems early on. Plus, this is the optimal time for Dr. Weber to become familiar with your child's orthodontic development and form a plan for future treatment if necessary.
However, you may want to bring your child in earlier if there are signs of developing problems or issues that are already present. For example, if your child has crowded or crooked teeth or misaligned jaw joints, they may need braces sooner than seven years old. Braces can also address issues such as overbites, underbites, crossbites, and open bites. If your child is experiencing any of these problems—or there is something else worrying you about their oral health—it's essential to bring them in for an appointment right away so that we can assess the situation and provide a reliable solution.
Benefits of Early Treatment With Braces
Early treatment with braces can provide numerous benefits to your children. Firstly, it helps to ensure that their teeth and jaws develop correctly, preventing potential problems in the future. As you know, braces assist in guiding the erupting teeth into proper alignment, and they can also be used to close gaps between teeth or correct overcrowding issues, as we also mentioned above. Early treatment also makes it easier to control irregular growth patterns of the jawbones, which could lead to jaw pain or discomfort later in life.
Early orthodontic treatment can also reduce the risk of trauma from protruding front teeth or severely crowded molars, which are more prone to injury if your child is involved in physical activities, such as sports. By correcting and preventing these problems early on, we can ensure a boost to your child's self-esteem by giving them a healthy, confident smile.
Furthermore, in addition to the health and aesthetic benefits of early treatment with braces for kids in Omaha, NE, it can also result in shorter overall treatment times and reduced costs. It is an easier process for both your child and Dr. Weber to correct minor orthodontic problems before they become more severe and complex if left untreated. By intervening earlier, our team here at Weber Orthodontics is able to address any orthodontic issues with fewer visits, less complicated treatments, and potentially lower costs, thanks to shorter treatment times!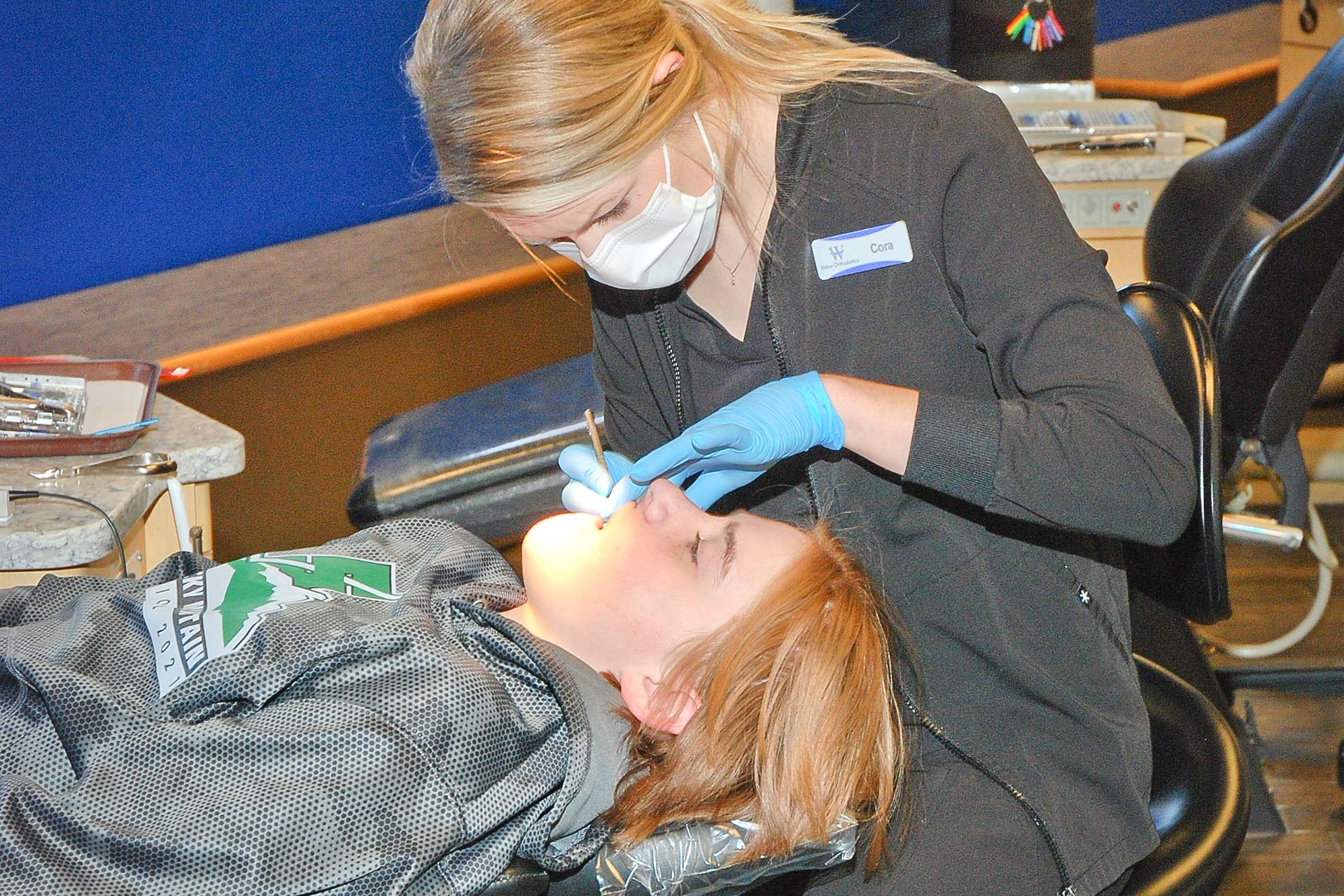 Braces for Teens
Braces for Teens in Omaha, NE
For over 25 years, Dr. Weber has been putting beautiful smiles on the faces of children, teens, and adults with the help of our fantastic selection of braces in Omaha, NE, and the surrounding areas. We offer a wide range of braces options and use the latest technology to create a personalized treatment plan that will gently move your teen's teeth into proper alignment over time, giving them a healthy smile that they will be excited to show off to all their friends, family, and peers.
Your teen will love the fun atmosphere and friendly team here at Weber Orthodontics as well as the personal attention and genuine interest that we show in their well-being. And with our flexible financing and payment plans, open and transparent communication, and virtual appointment options, you'll love us too, thanks to the stress-free experience that we nurture!
Common Signs Of Orthodontic Issues
Here at Weber Orthodontics, we understand it's essential to detect any potential orthodontic issues early on so they can be corrected quickly and easily. This will not only help your teen maintain a healthy and happy smile, but it may also help avoid more costly treatments and significant issues down the road.
Common signs of orthodontic problems in teens include overcrowded mouth or crooked teeth, difficulty or pain while brushing or flossing, bite misalignment like overbites, underbites, or crossbites, and a noticeable speech impediment or frequent jaw pain. These are all tell-tale signs that it's time to make an appointment with our office and get your teen the help they need! And if you have any concerns whatsoever about your teen's oral health, Dr. Weber is more than happy to schedule you for a free consultation to discuss their potential orthodontic treatment options.
What To Expect With Braces
At Weber Orthodontics, we strive to make braces for teens in Omaha, NE, as comfortable and stress-free as possible. We offer various braces options, from traditional metal braces to clear ceramic and even stylish gold braces. Once your teen's braces are on, there are some small life changes that your teen will have to adjust to.
They'll need to cut back on certain types of food like popcorn, hard candy, and other foods that may get caught in or even damage the braces. They'll also need to be diligent with their oral hygiene routine and brush after every meal to ensure that food particles don't get trapped in the braces. And other than the occasional check-up with Dr. Weber, your teen will have a stunning new smile in no time!
Contact us today to schedule your free consultation and smile assessment!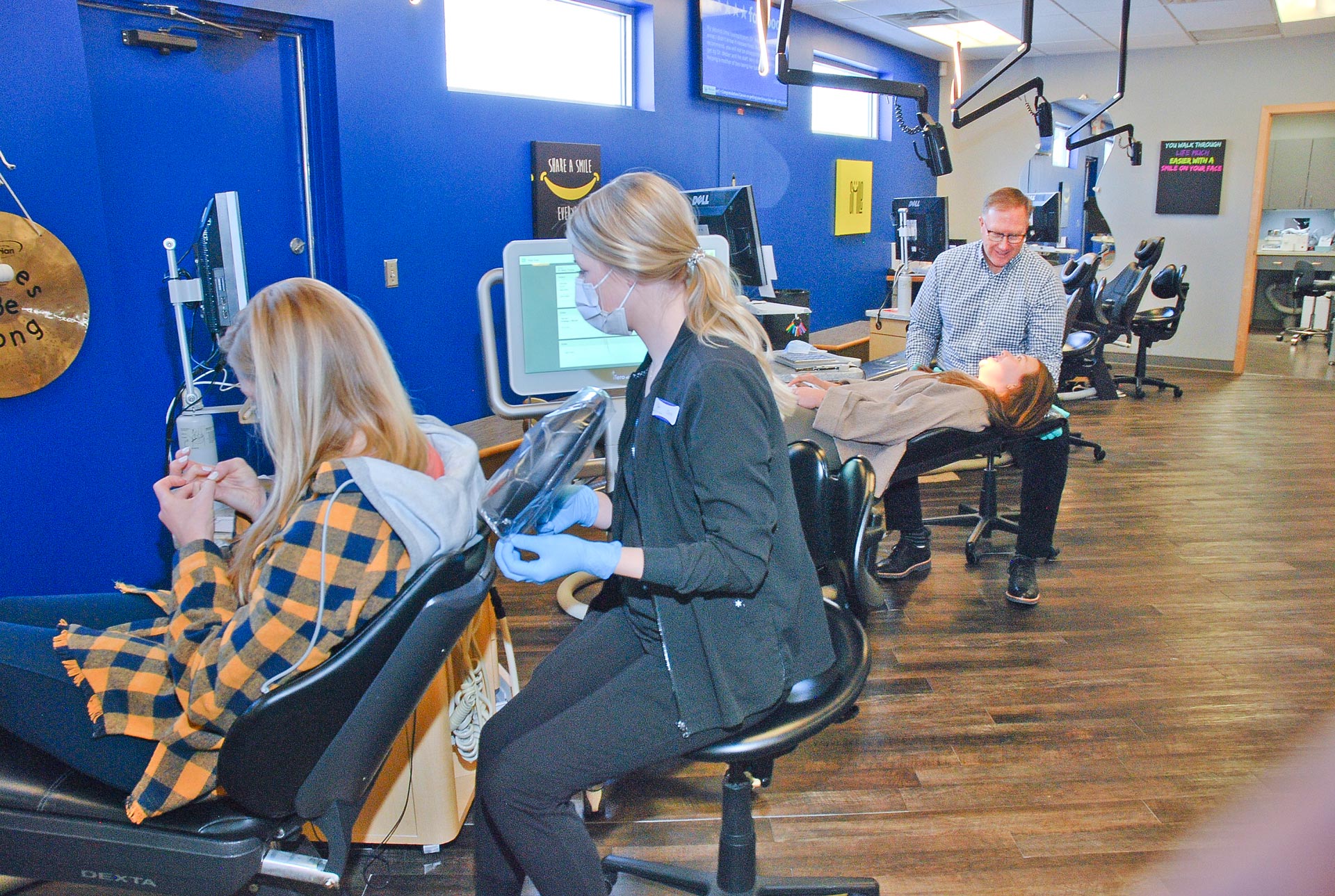 Braces for Adults
Braces for Adults in Omaha, NE
If you never had braces as a teenager—or if you did, but your teeth moved back to their original position over time—it's not too late to get the smile you've always wanted while also improving your oral health!
Receiving orthodontic treatment with braces for adults can be an immensely rewarding experience. The benefits far surpass simply achieving better-aligned teeth, such as:
Better oral hygiene
Healthier gums
Improved digestion
Clearer speech
And so much more!
That's why Dr. Weber is happy to offer a variety of braces options for adults to suit your lifestyle by utilizing cutting-edge orthodontic technology that will deliver exceptional results while also saving you time and money.
Choosing the Right Treatment Options
Here at Weber Orthodontics, we offer a wide range of treatment options for our adult patients. So whether you're looking for a simple and effective solution to resolve a troublesome malocclusion like our traditional metal braces or a more aesthetically pleasing option like our gold braces, we'll work with you to find the be type of braces in Omaha, NE, for your individual needs, lifestyle, and budget.
Traditional Metal
Traditional metal braces are the most commonly used type of braces for adults in Omaha, NE. Despite the stereotypes around metal braces, they're smaller, more comfortable, and more effective than ever before. Made from high-grade stainless steel, these braces use brackets connected by an archwire to gradually move your teeth into alignment.
Clear Ceramic
Clear ceramic braces provide a fantastic alternative for adults who want straight teeth in a far more discreet manner. These braces feature tooth-colored brackets that blend in with your natural tooth color, making them much less visible when you smile. Plus, they are just as effective as metal braces and use the same archwire system to gradually move your teeth into alignment!
Gold
Our gold braces are an excellent option for adults who want to add a touch of sophistication to their orthodontic treatment. These braces are coated with a unique gold alloy material that is both strong and lightweight. Much like our other options, our gold braces also use the same archwire system as traditional metal braces to gradually reposition your teeth; however, they provide the added benefit of a luxurious and stunning aesthetic.
Braces FAQ